Posted by Skinsider Team on 11th Mar 2021
Interview with SKINRx LAB & their Skin Prescription for Healthy Beauty
This year we launch some new, amazing brands. Despite not being able to travel to Seoul, we have spent a lot of time on video call getting known better our new partners. We still want to bring those amazing people who create. Why? Because it is fantastic opportunity to share with you their stories and knowledge about their products. Today, we have amazing privilege to present to you KIM BERNARD LEE, the CEO SKINRx LAB's. Are you ready for your inside information to the brand? Here we go!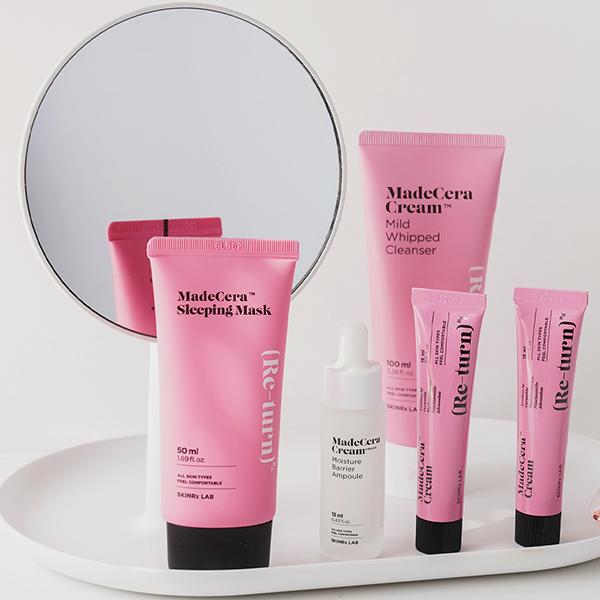 The story of SKINRx LAB
Karolina: How long has it been since you started the company and launched the brand?
Kim Bernard: After analyzing the global beauty trend and customers' skin concerns obtained through a general cosmetics shopping mall <SKINRx> that is currently operating from 2003, its own brand <SKINRx LAB> was launched in 2015, and then, the representative product, MadeCera Cream was released. As soon as MadeCera Cream was released, it recorded the No.1 selling for 85 days in the e-commerce platform<SKINRx>. As it has been continuously loved by customers till today, it achieved the accumulated sales volume as many as one million creams in 2020.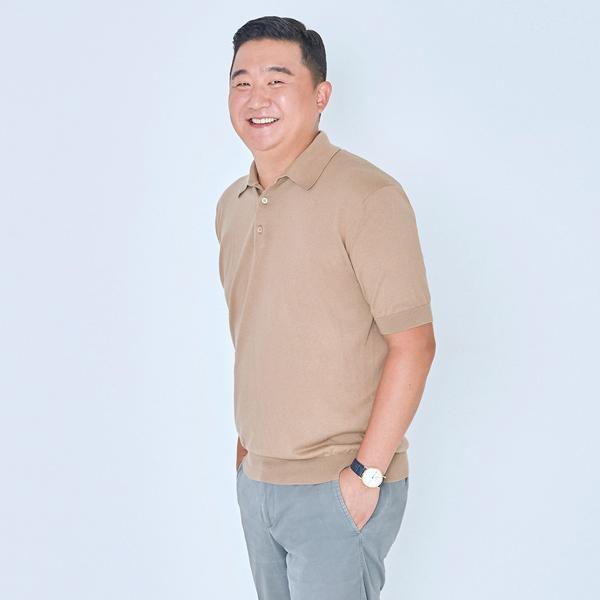 Karolina: That is such an amazing achievement, especially in this fierce and saturated market. What do you believe is your recipe for the success?
Kim Bernard: it is our philosophy. <SKINRx LAB> presents the skin prescription for healthy beauty. It makes the best effort to develop the optimum products helpful for relieving skin concerns and strengthening skin barrier by regarding the skin improvement effect as the priority.
Karolina: Sounds simply but…
Kim Bernard: Yes, but it is not. It is all about conducting research for drawing the optimum prescription by understanding various lifestyles of modern people such as excessive stress, wrong eating habits, diet, lack of sleep, skin/plastic surgery, and environmental pollution, and then analyzing their influences on our body and skin. Also, on top of continuously exploring to discover great raw materials in the whole world, it is making endless investment even in high-priced raw materials for the actual skin improvement effect.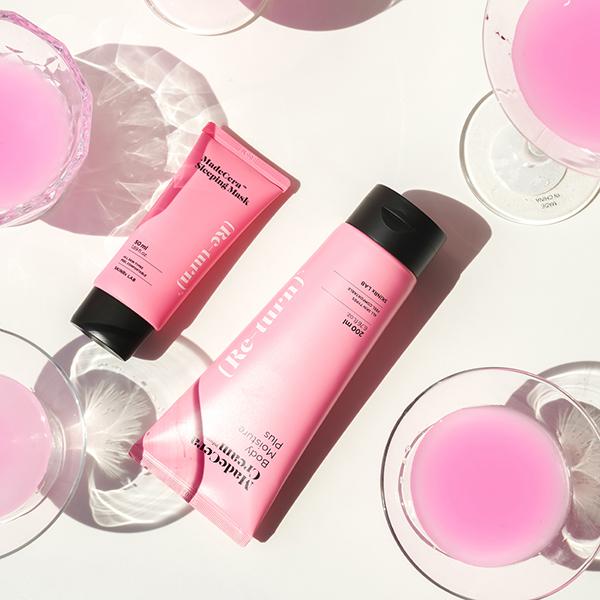 Karolina: Yes, stress levels are high on the list for so many of us. How would you then describe your mission?
Kim Bernard: I would say that <SKINRx LAB> will be carrying out its responsibility as a derma cosmetics brand for helping everyone realize healthy beauty.
How to use?
Karolina: Let's talk about skin concerns your cosmetics address.
Kim Bernard: Sure. The MadeCera products give back healthy skin to customers by maximizing the synergy effects of Madecassoside and Ceramide, improving the skin damaged from external stimuli, and fundamentally strengthening skin barrier. Every product of <SKINRx LAB> contains MadeCera™, so it provides skin soothing and deep moisturization to everyone with dry and sensitive skin.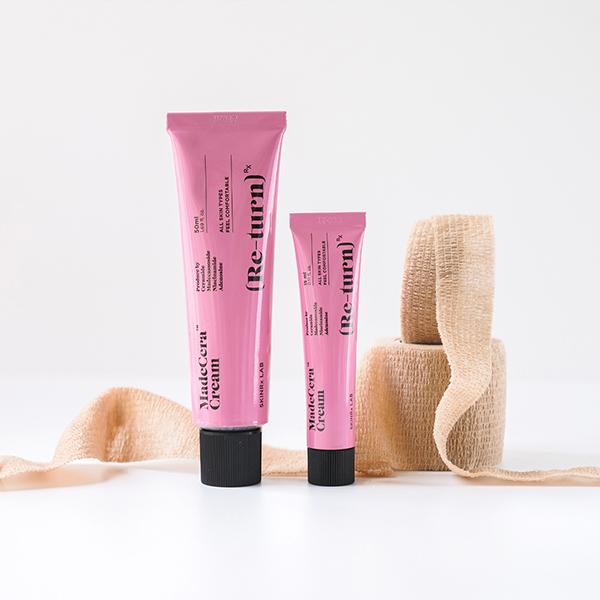 Products from MadeCera Line
Karolina: Dry, sensitive skins are ticked. Is that the only feature of your cosmetics?
Kim Bernard: Of course not. Its representative product, MadeCera Cream is a multi-skincare product suitable for nine kinds of skin concerns such as dryness, blemish, fine wrinkles, elasticity, sensitivity, dullness, dead skin cell, pore, and acne. It contains the nature-derived fermented ceramide complex as much as 10,000ppm, and it has the clinical test results showing that it has improved moisture inside skin 103%, and also strengthened skin barrier.
Karolina: I have to admit that this moisturizer was the fastest selling product during launch in 2021.
Kim Bernard: So nice to hear that. We also have Double Essence Toner that contains the milk protein extract for glossy and smooth skin. This is strawberry milk toner with pink-colored texture reminding of strawberry milk. This essence toner is divided into moisturizing layer and water layer, so it should be shaken before use. It covers skin with moisturizing layer for moist skin. We recommend to consumers who suffer from extreme dry skin.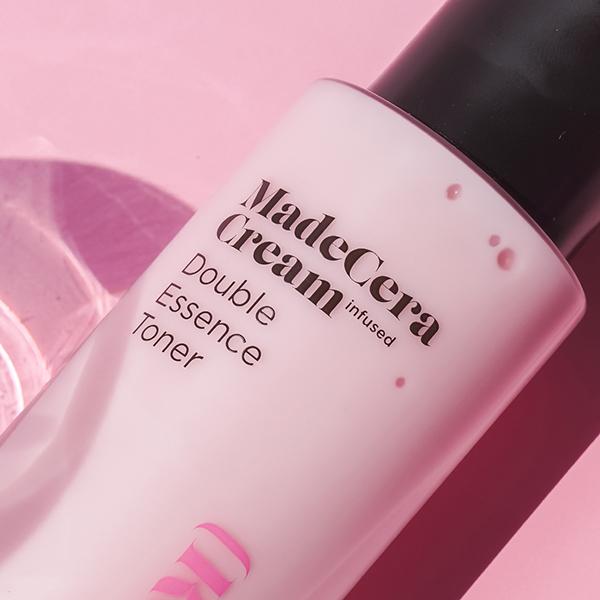 Skincare rituals
Karolina: Fantastic. How would you incorporate these two products in skincare rituals?
Kim Bernard: MadeCera Cream with no stickiness could be used for every skin type such as dry and oily skin. If it is evenly applied to skin in the last step of skincare, the moisturizing layer composed of Madecassoside and Ceramide moistly protects skin.
As a toner with highly moisturizing essence texture, Double Essence Toner provides such excellent moisturization even without using other products. Thus, according to skin type or season, a little bit different method of use is recommended. In case of dry skin, it is good to apply it in 2-3 layers. In case of oily skin, the single use of Double Essence Toner is good enough for whole skincare. In case when using both products, take a suitable amount of Double Essence Toner onto a palm and then gently pat skin. After that, apply MadeCera Cream to skin in a thin layer for the perfect moisturization.
Karolina: Simplistic skin routine is a winner, especially in the morning.
Kim Bernard: Oh, yes!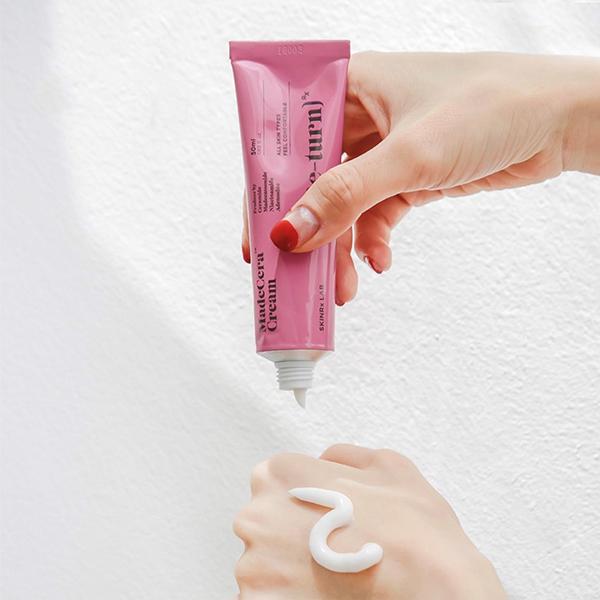 Future research & developments
Karolina: Last questions, we always want to know. What are the new products we can expect?
Kim Bernard: SKINRx LAB is putting the best effort to make reliable products for customers with sensitive skin. Especially, it is currently developing products based on MadeCera™ as its basic ingredient for acne skin irritated by external harmful environment.
Including Toner containing the cauliflower extract that gently removes dead skin cells, and Ampoule containing the horseradish root extract effective for skin soothing, all the products have already completed the human safety test meaning that they would be suitable for acne skin. Moreover, SKINRx LAB will be providing the derma prescription for healthy beauty, so everyone's skin could comfortably breathe in the rapidly changing environment.
Karolina: Fantastic. We cannot wait to test it. I do not recall having cauliflower in the ingredients list of any of our products.
Kim Bernard: Hopefully, we will be able to share more very soon!
Shop SKINRx LAB here.