Posted by Skinsider Team on 15th Oct 2021
​Top 5 vitamins to make your skin glow
We all know vitamins are crucial to keep our body healthy. No surprise that using vitamins in skincare has a significant impact on its condition. When applied topically, vitamin-infused skincare can bring amazing results.
Which vitamins can make your skin look younger?
Vitamin skincare can offer skin brightening properties to handle dark spots and scars. It also provides protection against damage from free-radicals, treats fine lines and wrinkles. We have amazing news for you. Some of the best Korean skincare filled with healthy vitamins was curated here at Skinsider.
The Best Skincare Vitamins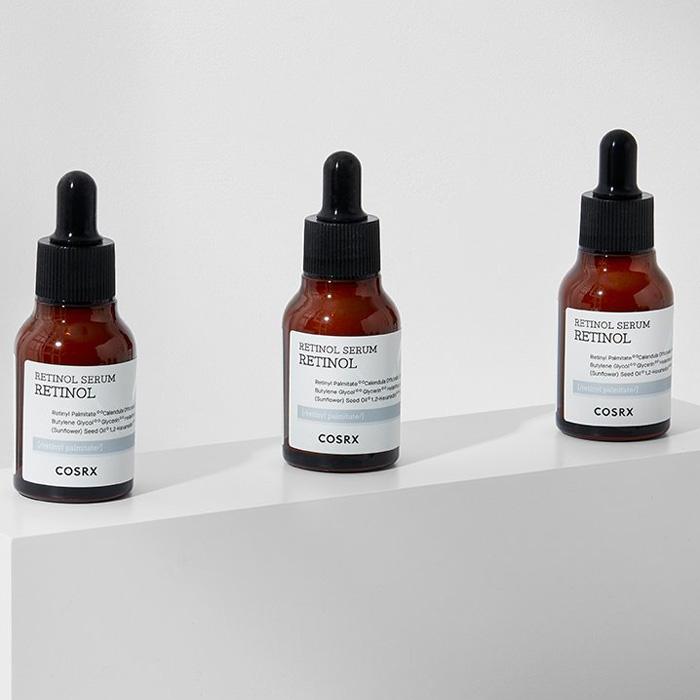 Vitamin A
Vitamin A, in the skincare vocabulary known as a retinoid, is an ingredient that can significantly improve the renewal of skin and overall skin elasticity. Vitamin A also boosts collagen and elastin production.
The most well-known benefits are:
strengthening the protective function of the epidermis, protecting collagen against damage and stimulating skin cell turnover.
It reduces visible signs of ageing like fine lines and dark spots.
It tackles enlarged pores.
It has a self-renewal function and therefore can be used to treat acne
It improves the appearance of pigmentation.
How It's Used:
If you're new to vitamin A products like retinol, begin with a lower concentration and do not use it every day. Instead, try it every other day. We always recommend using it in your evening routine to reduce the risk of photosensitivity.
Be patient: Using retinol for only a few days won't give you a brighter complexion and fewer wrinkles. We expect to see first results within two and four weeks depending on a % concentration of vitamin A.
Our recommendation:
COSRX Real Fit Retinol Serum maximizes the pros whilst minimizing the cons of incorporating vitamins into your skincare! 0.5% of stabilized Retinyl palmitate (vitamin A derivative) works to refine uneven skin texture, treat signs of sun damage, wrinkles, and surface imperfections such as hyperpigmentation and scarring.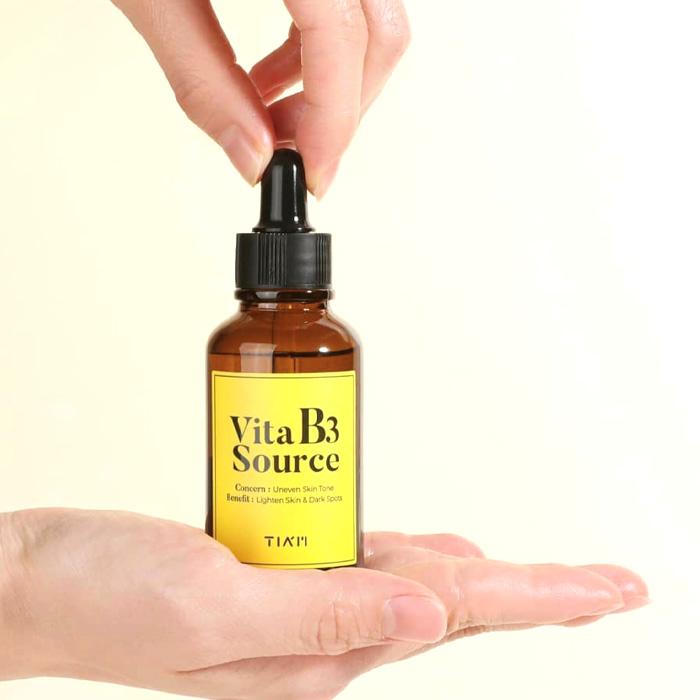 Vitamin B3
Vitamin B3 (or niacin; niacinamide) is a water-soluble vitamin and is best known for helping skin maintain its normal barrier function and reducing dryness and soothing related conditions.
The most well-known benefits are:
-It helps to reduce the appearance of pores, dark spots, pigmentation and fine lines and wrinkles.
-It tackles uneven skin tone and dullness
-it has a normalising ability on the pore lining, which prevents debris from clogging pores.
-It has anti-ageing and anti-inflammatory properties and can help soothe the skin.
-Niacinamide is a strong antioxidant. In combination with Vitamin C and glutathione, it can help even out the skin tone and reduce dark spots for brighter skin.
How It's Used:
Using niacinamide twice a day gives the best benefits.
Our recommendation:
The TIAM Vita B3 Source Serum is a carefully formulated serum to dramatically improve the complexion.
This potent serum contains 10% Niacinamide and 2% Arbutin to visibly improve the skin's overall health and complexion. A multi-tasker like no other targets uneven skin tone and minimises pores, reduces wrinkles and fine lines while also improving hyperpigmentation. Your skin will look clearer, healthier, and brighter.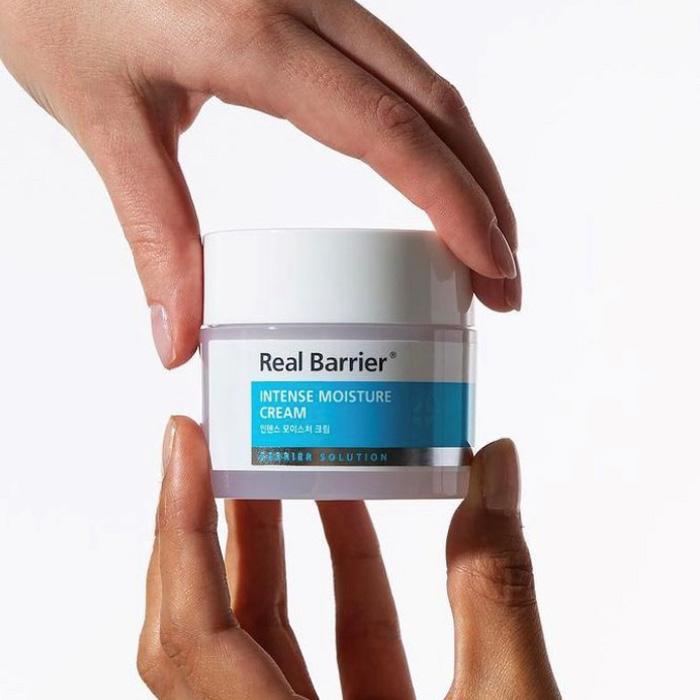 Vitamin B5
Many of us associate pantothenic acid (aka Panthenol) with a remedy to sunburns and serious redness. But this amazing ingredient is preventing water loss and helping to retain moisture. Thanks to it the skin is protected from dryness, flakiness, and itchiness. Plus, it protects your skin from redness caused by UV exposure. These make vitamin B5 ideal for soothing the skin.
How It's Used:
Using Vitamin B5 twice a day gives the best benefits to protect dry skin `and keeping it soft and supple. If you have irritated skin use it as needed to reduce the tightness and itchiness. Otherwise, use a serum or cream twice a day.
Our recommendation:
There are many amazing products filled with vitamin B5. However, we would love to share with you our love for Real Barrier. The Korean skincare expert in dealing with dry, compromised and sensitive skin is using vitamin B5 in their MLE patented technology. It mimics the natural skin barrier and supports thirsty or dry skin to recover quickly.
Vitamin C
Where to start… Vitamin C is an all-rounder. If you are our loyal customer, you know that Vitamin C is an ingredient we can't praise enough and it is always on top of the list of ingredients we recommend. It is so important for us that we created a special section of skincare containing vitamin C. See it here.
The most well-known benefits are:
-It is photo-protective and can be used to improve your skin's barrier against sun damage.
-With its antioxidant properties, it helps fight free radicals.
-Yes, vitamin C boosts collagen production, decreases pigment formation, and protects against environmental stressors. What are those? Environmental stressors are for example like pollution and UV rays.
-It targets signs of premature ageing like pigmentation and early fine lines.
-It also helps in wound healing and aids in fighting infections
How It's Used:
Usually, vitamin C comes in the form of a serum. Remember, you only need to use a few drops per application to get results. This ingredient is potent and therefore it can create skin sensitivity, so be careful!
Vitamin C can be used together with vitamin E and sometimes with ferulic acid, niacinamide and ceramides (Hello, check our bundles). That's because the combination of these ingredients improves the effectiveness of skincare.
Our recommendation:
If you are new to Vitamin C products you may want to start with a lower concentration of Vitamin C.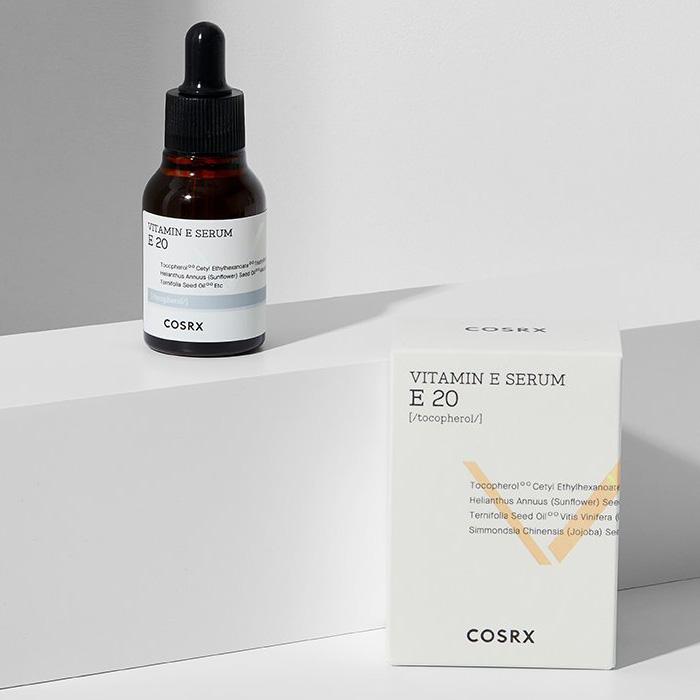 Vitamin E
Vitamin E is also an antioxidant that is commonly used in soothing and moisturising creams.
The most well-known benefits are:
-Vitamin E provides photo-protection to the skin by absorbing UV light.
-It improves skin hydration and strengthens the natural skin barrier.
-It helps with skin building and rejuvenation.
-On top of that, especially if combined with Vitamin C, it fights free radicals.
How It's Used:
Depending on the type of a product and unless stated otherwise, use it twice a day. It is worth mixing it with Vitamin C.
Our recommendations:
We have an amazing opportunity to offer several skin products: serum, moisturiser and even a sleeping mask.
Here are our top choices:
-serum: COSRX Real Fit Vitamin E Serum E-20 is a hydrating serum loaded with vitamin E and 5 different seed oils to moisturize dehydrated skin leaving it glowing with radiance. It contains pure vitamin E (purity 99%) instead of vitamin derivatives to deliver a potent effect to the skin. Acts as an antioxidant protecting the skin from daily environmental stressors such as unprotected sun exposure and air pollution.
-Moisturiser: By Wishtrend Vitamin 75 Maximizing Cream is a lightweight cream fortified with 75% Vitamin Tree Water to help to brighten and clarifying the skin while Vitamin E provides soothing and moisturization. It absorbs and rejuvenates the skin without stickiness to create a natural healthy glow.
-Sleeping mask: Klairs Freshly Juiced Vitamin E Mask is fortified with antioxidant Vitamin E, the E Mask brightens, improves wrinkles, and prevents other signs of ageing. The pudding-like texture is in memory foam consistency to reveal brighter, firmer, and more hydrated skin. Use as a sleeping pack or daily moisturizer.
Are you ready to give your skin some vitamin?