Posted by Skinsider Team on 18th Sep 2022
Top Reasons To Start Using Bulgarian Rose Water In Your Skin Routine
Did you know that Cleopatra loved rosewater and she used it not only in her skincare regimen, but to drink and to bathe?
From mood-boosting to skin-improving properties, you may say rose is an ingredient which healing properties are used for millennia. Today we want to talk about the most valued rose, the Bulgarian Rose.
Let's take a dive into Bulgarian rosewater, how it's made, and the evidence-based benefits the rose extract has been known to provide.
What is Bulgarian rose water?
Rose flowers grow in the unique weather and soil conditions of the Rose Valley in Bulgaria.
Bulgarian Rose (aka Damask Rose) water is water-soluble and mildly astringent. What does it mean? Well, it is soothing and hydrating to the skin. It also balances the skin with its anti-fungal, anti-bacterial & anti-inflammatory properties.
How is Bulgarian Rose Water extracted?
Rose essential oil and water and extracted by distilling hydrosol from a rose plant. It is produced in the so-called rose distilleries under the strict control and overseen by experienced distillers only who can estimate the exact moment of the distillation.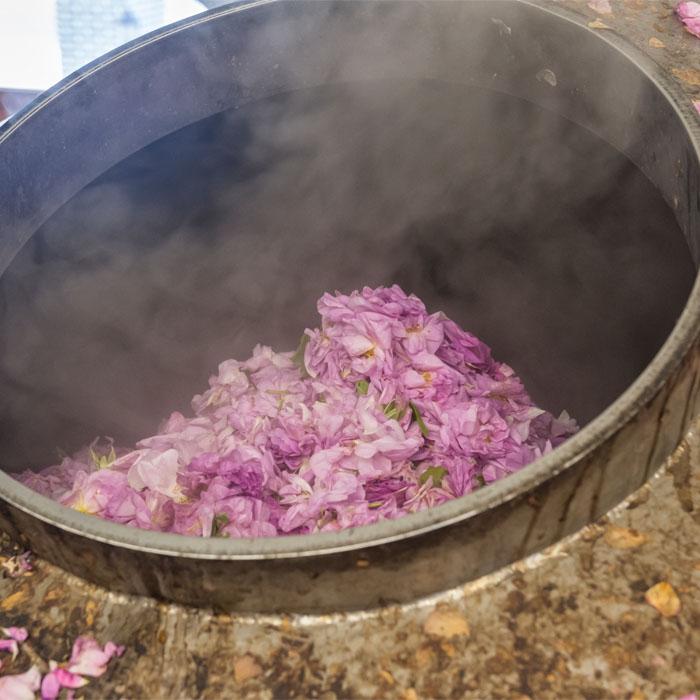 Bulgarian rose benefits for the skin
Why would anyone go that far to extract one ingredient? The answer is very simple, because of the amazing properties this fabulous ingredient has to offer. Damask rose contains 20 times more vitamin C than lemon, and 20 times more vitamin A than tomato, making it effective in moisturizing and soothing the skin. Bulgarian Rose Water (aka Rosa Damascena) is:
- anti-ageing and rejuvenating your skin: Rosa Damascena water will help you reduce puffiness under the eyes and face and reduce the redness. As you know inflammation can speed up skin ageing. Plumper skin is also younger-looking skin.
- soothing the skin: Organic Bulgarian rose water has anti-inflammatory properties which effectively reduce redness, calm acne. It is safe to use it on dermatitis, and eczema.-hydrating the skin: rich in flavonoids and vitamins, including A, C, D, E and B3, Bulgarian rose water is used to hydrate thirsty skin.
- purifying the skin: It can help to remove the oil and dirt accumulated in the clogged pores. Often rose water is used in cleansers as it is suitable for all skin types.
The Beauty Essential You Need- Korean skincare products for smooth, clear skin
Rose extract is in flower water form a gentle but potent delivery system that provides several benefits for the skin and offers lovely therapy to your senses. Here are some of the top Korean rosewater-infused skincare products: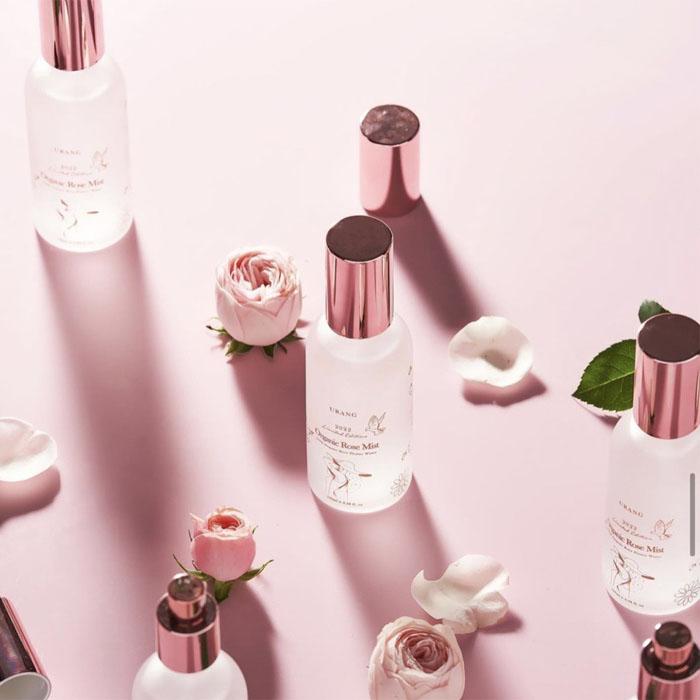 URANG Rose pH Balancing Mist (100ml)- 2023 limited edition is here. A mist, a toner or a primer? All of the above! Did we mention it's a mood booster, too? Simply spray your face using the mist under or over makeup to refresh your face. This luxurious and limited-edition Korean face mist helps improve the skin's elasticity and keeps pores tight, making the skin more resilient to pollution and other environmental stressors.
Urang True Rose Repair Essence offers you intense hydration and glowing complexion. Great for all skin types, the Korean skin essence transforms dull, dehydrated skin into soft and supple skin with a bouncy texture. It is anti-ageing and soothing.
Heimish Bulgarian Rose Hydrogel Eye Patch 60ea; provides hydration, brightening effects, and an anti-wrinkle solution.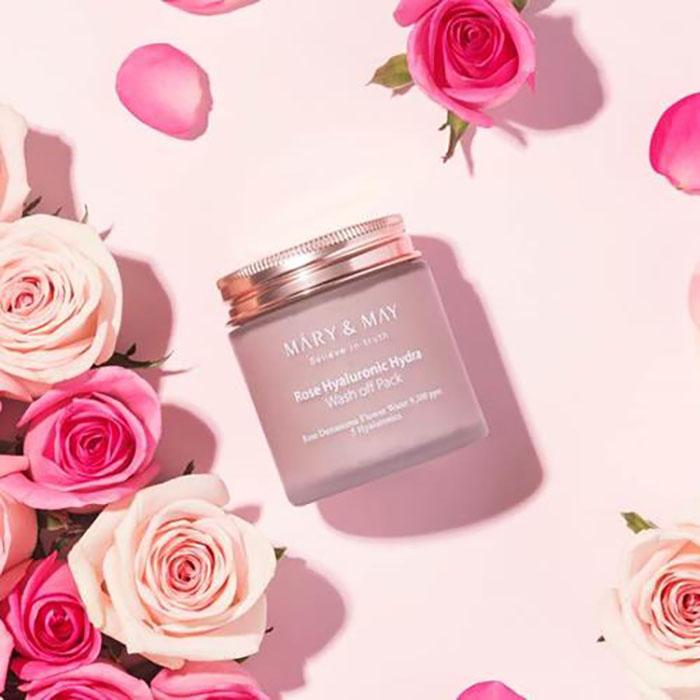 Mary&May Hyaluronic Hydra Wash off Pack helps prevent dryness and helps keep the skin moist.
With this mask you can get rid sebum and impurities. It absorbs excess oil, wastes, and sebum to clean pores and provide smooth skin texture after just one use. French rose petals and Damask rose water are generously used to deliver moisture with the vitality of blooming flowers.
Aromatica Reviving Rose Infusion Serum delivers skin a luminous look while moisturizing the skin and improving fine wrinkles. Containing rosewater derived from infused damask roseleaf and rose oil, the serum provides intensive moisture while helping you promote a healthier skin to bring that glow back into the skin. This serum will bring you vibrant skin.
With the perfect blend of soothing rose water, nourishing rose flower oil and skin protecting ceramide, Urang Rose Ceramide Cream delivers intense long-lasting moisture for all skin types. Organic rose water hydrates and calms dry, red and irritated skin while Ceramide NP restores lipids to prevent moisture loss.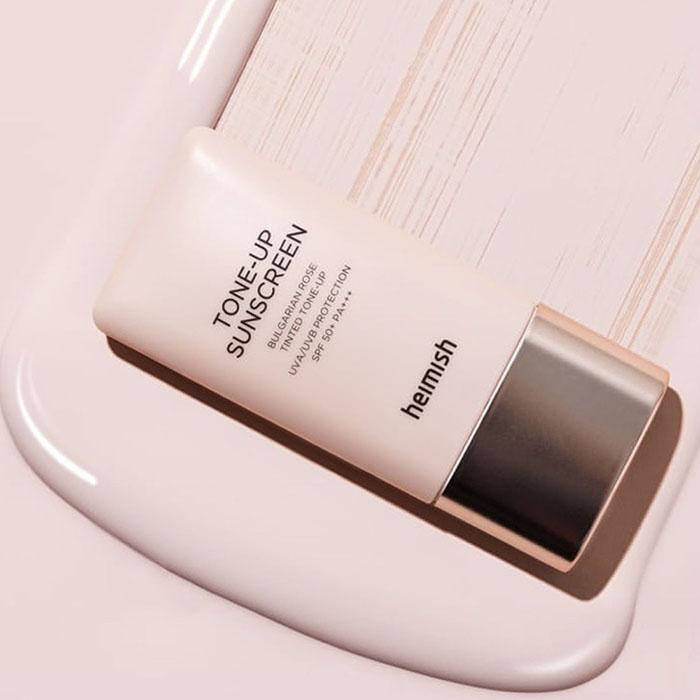 Heimish Bulgarian Rose Tone-up Sunscreen; if you are in a search of rose-infused sun care, look no further. All-in-One Rosy Tone-Up Sunscreen combined with UV protection and tone-up cream! A light weighted lotion type sun fluid that adheres thinly to the skin and brightens up the dull skin without feeling stuffy.
It is time your skin flourished with amazing power of roses.