1st Jun 2020
How Vitamin C Can Transform Your Skin
Vitamin C is an amazing antioxidant that is worth adding to your skin rituals. As we celebrate a new launch of By Wishtrend 15% Pure Vitamin C and Ferulic Serum, we decided to devote few extra minutes to write a little bit more about the power of this antioxidant in skincare products.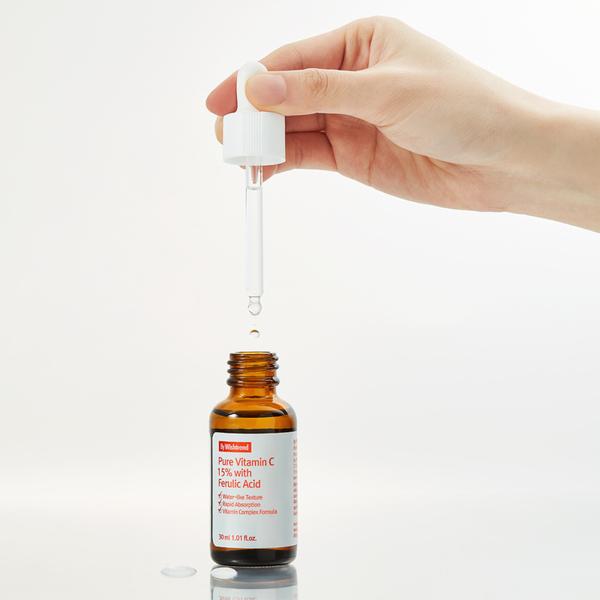 Vitamin C: antioxidant like no other
Vitamin C, also known as ascorbic acid and ascorbate is an antioxidant well-known and recognised in the beauty industry. It protects the skin against environmental stressors such as pollution but also tackles existing damages to the skin such as sun damage.
Benefits of this antioxidant:
It brightens the skin, therefore is great for hyperpigmentation. It is perfect remedy for sun damage
In addition, it brightens a dull skin and improves its texture.
It is a powerful antioxidant that protects the skin from irritation, inflammation and environmental stressors (for example sun, pollution).
It reduces acne scars by speeding up skin's healing process.
Most popular form of vitamin C in skincare
Among all the forms of vitamin C, ascorbic acid, also known as L-ascorbic acid, is the most frequently used version in skincare.
% and effectiveness
Ascorbic acid in high concentrations (15% or higher) is very effective in treating the long term and persistent skin problems.
What is interesting that vitamin C in lower concentrations is also effective. Even 0.6% of this ingredient has anti-ageing properties.
However, its effectiveness depends on how it is stored and also what skincare you use with it.
We always recommend storing the product in a dark and cool place such as fridge to keep its longevity.
In addition, as it can create photosensitivity, we recommend using it in the evening and always wear a sunscreen every day (no matter what are the weather conditions)
Our recommendations
For the beginners
If your skin is not used to vitamin C it is always great to start your journey with a lower concentration of this ingredient. Both products contain 5% ascorbic acid. They will provide the skin with the necessary dose of antioxidant reducing at the same time the risk of skin irritation.
For experienced users
For those skincare enthusiasts whose skin is experienced in using vitamin C 15% or 21.5% concentration will be the next level. They will focus on skin texture, fading hyperpigmentation, and providing stronger skin treatment.
By Wishtrend 15% Pure Vitamin C and Ferulic Serum will be perfect for those of you who struggle with sensitive skin. Oily and combination skin types will enjoy this serum as it will also provide vitamin treatment.
Formulated with the perfect amount of Vitamin C, 21.5%, By Wishtrend Pure Vitamin C 21.5% Advanced Serum to give the ultimate brightening solution to dull skin. It brings the skin back to health by balancing and replenishing the moisture within the skin. The Pure Vitamin C 21.5% Advanced Serum contains only ten essential ingredients to ensure effective results without any irritation. Add a few drops a day for brighter and healthier skin.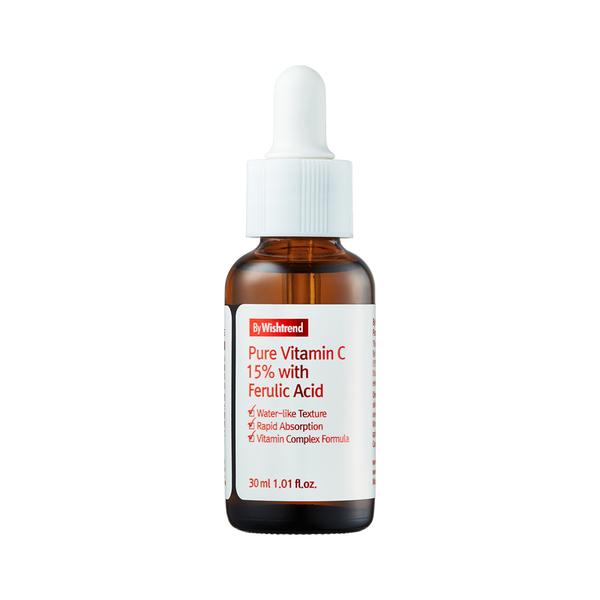 Did you have a chance to incorporate Vitamin C in your skin rituals?
You can shop all our Vitamin C products here.