Posted by Skinsider Team on 7th Feb 2023
Wash-off Masks, Sleeping Masks, and Sheet Masks: Understanding the Differences in Korean Skincare
Korean skincare has taken the beauty world by storm in recent years, with a focus on multi-step regimens and using a variety of products to target specific skin concerns. One of the key elements of Korean skincare are face masks, and there are three main types: wash-off masks, sleeping masks, and sheet masks. Understanding the differences between these types of masks can help you customize your skincare routine to your specific skin needs and achieve the best possible results.
Incorporate for a well-rounded routine & get the most out of K-beauty products. Tips for great skin are here!
Wash-off Masks
Wash-off masks are designed to be applied to the face, then washed off after a specified amount of time, usually between 5-15 minutes. These masks typically have a thicker consistency, like a cream or mud, and offer a more intense treatment as the ingredients have more time to penetrate the skin. Korean wash-off masks are often used to target specific skin concerns such as exfoliating, brightening, or deep cleansing. They are a great way to give your skin an extra boost of nutrients and hydration and can be used as needed to address any specific skin concerns that you may have.
Our top Choices:
Clarifying for acne prone skin: Axis-Y Mugwort Pore Clarifying Wash Off Pack is a potent blend of 61% Mugwort extract, designed to cleanse and clarify pores, soothe inflammation and irritation, and gently exfoliate to reveal a bright and glowing complexion.
Brightening effect for dull skin: Mary&May Lemon Niacinamide Glow Wash Off Pack is a premium clay pack with a balanced blend of kaolin and bentonite, natural ingredients, and niacinamide to effectively absorb oil, soothe skin, and brighten complexion.
Anti-ageing: Beauty of Joseon Red Bean Refreshing Pore Mask was designed to target enlarged pores, this mask harnesses the power of nature to remove dead skin cells, wash away excess sebum, and lower skin temperature. With a blend of Kaolin and Red Bean extract, it absorbs oil and impurities, while also providing gentle exfoliation for a clear and smooth skin texture.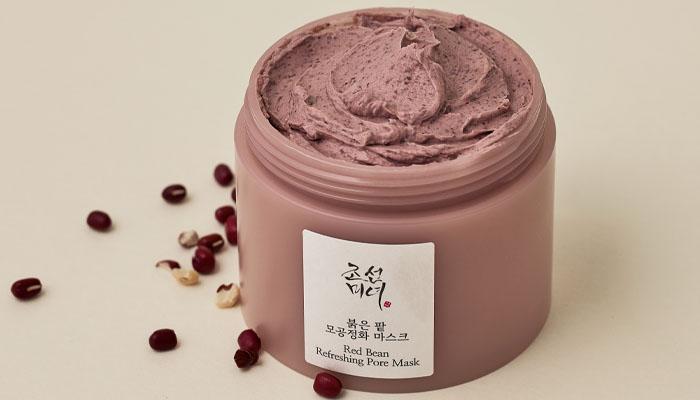 Sleeping Masks
Sleeping masks, as the name suggests, are designed to be applied before bed and left on overnight. These masks usually have a lighter, gel-like consistency and offer a more gradual treatment as the ingredients are slowly absorbed throughout the night. Sleeping masks are designed to provide hydration and nourishment to the skin while you sleep, making them a great addition to your nighttime routine. The slower absorption of the ingredients allows for a more gradual treatment, making these masks a great option for those with sensitive skin or for those who are looking to address specific skin concerns over time.
Our top Choices:
For acne-prone skin: COSRX Full Fit Propolis Honey Overnight Mask is infused with over 70% Propolis Extract and natural beeswax. This 3-in-1 mask provides intense hydration and refreshing moisture for a revitalized complexion. Its lightweight formula absorbs quickly into the skin, leaving it soft, smooth, and hydrated all day long. Whether you use it as an overnight mask, a cream, or a wash off mask, you'll love the baby-soft feel of your skin with every use.
Nourishing and brightening: Purito Dermide Cica Barrier Sleeping Pack! This nourishing overnight treatment is designed to soothe and protect skin exhausted from harmful UV rays and environmental stressors. Formulated with Hyaluronic Acid, Ceramide, and Centella Asiatica Extract, it strengthens the skin barrier, prevents water loss, and promotes a healthy moisture balance.
Anti-ageing: Klairs Freshly Juiced Vitamin E Mask is packed with the power of vitamin E, this overnight mask fights against the signs of ageing and leaves your skin looking smoother, brighter, and more balanced. Its unique pudding-like texture absorbs quickly, delivering the benefits of niacinamide for brighter skin and adenosine for skin regeneration.
Sheet Masks
Sheet masks are designed to be applied to the face and worn for a specified amount of time, usually between 10-20 minutes. They are made of a thin, absorbent material such as cotton or hydrogel, which is saturated with serum or essence. Sheet masks are a quick and convenient treatment option that provides hydration and nourishment to the skin, as well as targeting specific skin concerns such as brightening or anti-aging. They are a great option for those who are looking for an easy and effective way to give their skin a boost of hydration and nutrients, and can be used as often as needed.
Our top Choices:
For sensitive skin: Centella Asiatica extract, a well-known ingredient in traditional medicine, helps to promote skin healing and soothes inflammation, while Niacinamide brightens and evens out skin tone. With all these active ingredients, Rovectin Skin Essentials Dr. Mask Cica is a must-have for anyone looking to soothe and repair their sensitive, damaged skin. Get ready to experience a refreshed and revitalized complexion with this powerful and effective mask.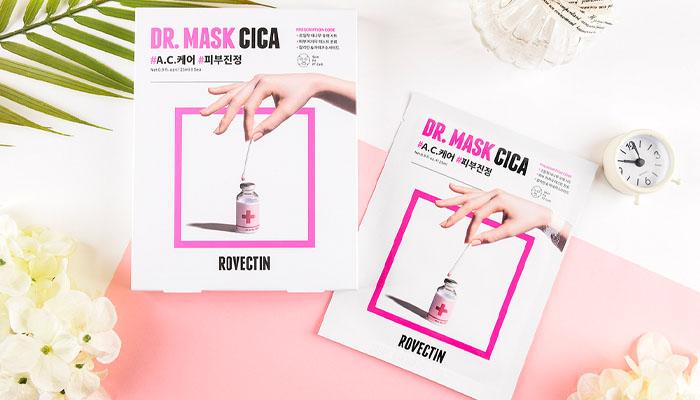 Anti-ageing and dull skin: By Wishtrend Natural Vitamin 21.5% Enhancing Sheet Mask is a luxurious and nourishing treatment for the skin. This sheet mask is made with a unique blend of Vitamin C and Vitamin E, two powerful antioxidants that help to brighten and rejuvenate the skin. The 11% Vitamin C and 10.5% Vitamin E combination provides an extra boost of nourishment to help the skin to look and feel its best.
For dry and itchy skin: The Real Barrier Extreme Cream Mask is a unique sheet mask that offers intensive hydration and nourishment to the skin. Its key ingredient, Peptide(Lipopeptide), protects the skin from premature aging caused by environmental factors such as pollution. The mask contains 30ml of Extreme Cream essence, which helps to restore elasticity and resilience to stressed skin. The essence is infused with Madecassoside, which improves skin firmness and bounciness.
Korean Skincare Routine With Masks
Wash-off masks, sleeping masks, and sheet masks are all effective tools in any skincare routine, offering various benefits and treatments for different skin concerns. Each type of mask serves a different purpose, and by incorporating all three into your routine, you can achieve a comprehensive and well-rounded skincare regimen. Whether you're looking for a quick and convenient treatment, a more intense and targeted solution, or a gradual and nourishing overnight treatment, there's a face mask out there for you. Whether you're a fan of traditional Korean skincare or a fan of the latest K-beauty trends, incorporating face masks into your routine can provide numerous benefits and help you achieve your best skin yet.