Posted by Skinsider Team on 5th May 2023
Cycle Your Way to Flawless Skin: Adjusting Your Skincare to Your Menstrual Cycle
Have you ever experienced pesky breakouts during your menstrual cycle? If so, you're not alone. Hormonal changes during your cycle can affect your skin's condition, making it imperative to adjust your skincare routine accordingly. In this guide, we'll explore how to banish those frustrating breakouts and keep your skin feeling refreshed and glowing all month long. So, let's unlock the secret to flawless skin by matching your Korean skincare routine to the phases of your menstrual cycle.
Your skin during menstrual cycle
Cycle-Sync Your Skincare: A Guide to Glowing Skin All Month Long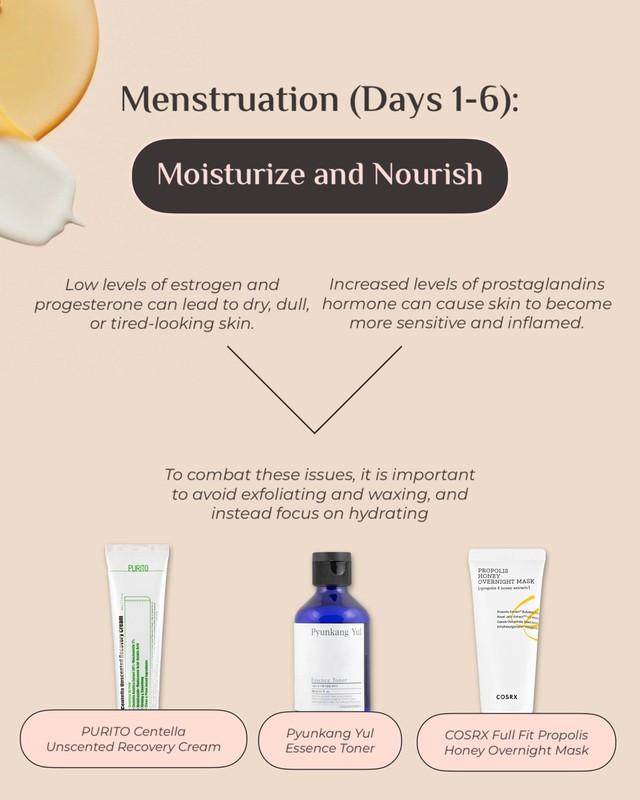 Menstruation (Days 1-6): Moisturize and Nourish
The hormone levels during this phase are at their highest, which can cause dryness, redness, and sensitivity.
Low estrogen and progesterone can make skin feel dry and look dull or tired. A rise in prostagladins hormone can cause skin to feel more sensitive and inflamed. Avoid exfoliating and waxing. Instead:
Focus on hydration: Pyunkang Yul Essence Toner
Soothe Your skin with: PURITO Centella Unscented Recovery Cream
Use an anti-inflammatory raw honey mask to hydrate and calm any existing breakouts: COSRX Full Fit Propolis Honey Overnight Mask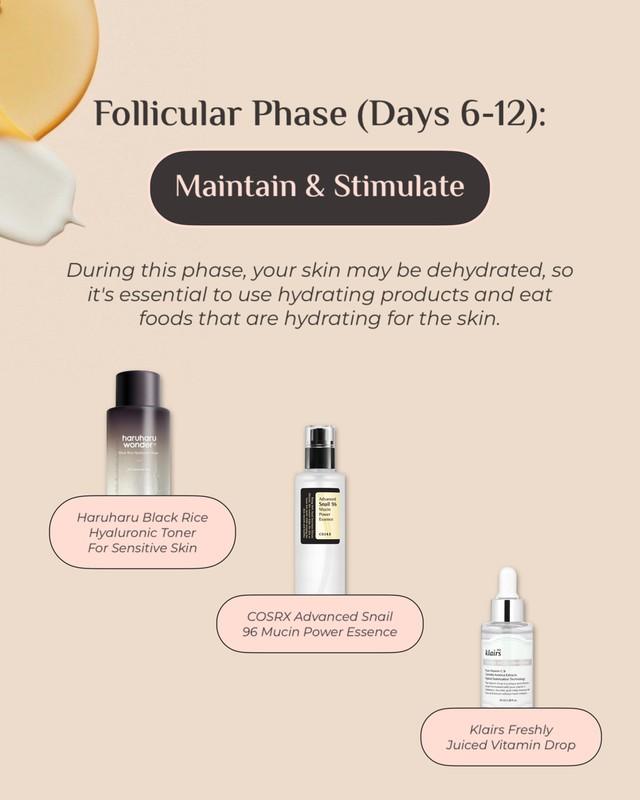 Follicular Phase (Days 6-12): Maintain & Stimulate
The follicular phase begins after the menstrual phase and lasts until ovulation. This phase is when the egg follicles mature and estrogen levels start to rise. During the follicular phase, your skin may be dehydrated, so it's essential to use hydrating products and eat foods that are hydrating for the skin.
We recommend:
Hydrate and brighter your skin with rice extract: Haruharu Black Rice Hyaluronic Toner For Sensitive Skin
Use snail mucin infused skincare for deep hydration: COSRX Advanced Snail 96 Mucin Power Essence
Use a vitamin C serum to prolong your skin's glow: Klairs Freshly Juiced Vitamin Drop (35ml)
Hydrate without clogging your pores: LAGOM Cellus Deep Moisture Cream (60ml)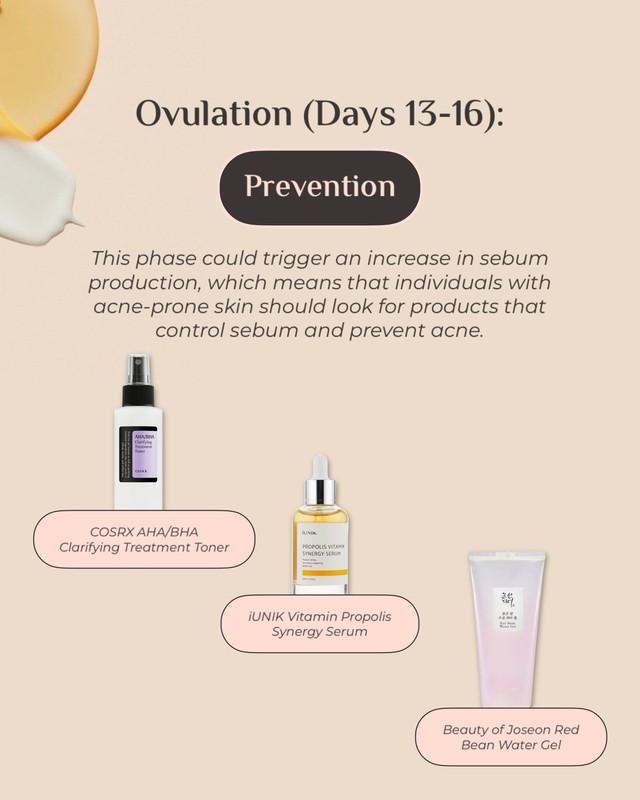 The ovulatory phase could trigger an increase in sebum production, which means that individuals with acne-prone skin should look for products that control sebum and prevent acne.
We recommend:
Exfoliate to keep pores free from build-up: COSRX AHA/BHA Clarifying Treatment Toner
Enjoy the power propolis iUNIK Vitamin Propolis Synergy Serum (50ml)
Use face cream that will not clog pores: Beauty of Joseon Red Bean Water Gel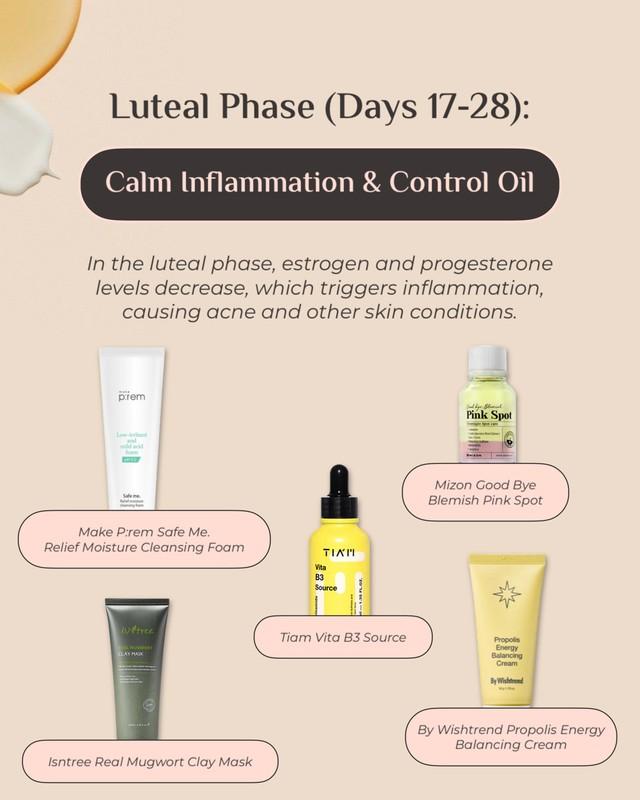 Luteal Phase (Days 17-28): Calm Inflammation & Control Oil:
The luteal phase begins after ovulation and lasts until the start of the next menstrual cycle. This phase is when progesterone levels rise and estrogen levels start to decline. The increased progesterone can cause sebum production to decrease, which can lead to dryness, redness, and sensitivity.
We recommend:
Cleanse with a gentle foaming cleanser: Make P:rem Safe Me. Relief Moisture Cleansing Foam
Use anti-inflammatory spot treatments: Mizon Good Bye Blemish Pink Spot
Use niacinamide (B3) serum to balance oil production and reduce inflammation: Tiam Vita B3 Source or Mary & May Niacinamide + Chaenomeles Sinensis Serum
Use light face cream that brightens the skin and keeps it balanced: By Wishtrend Propolis Energy Balancing Cream
Calm skin and breakouts with a clay mask: Isntree Real Mugwort Clay Mask
Understanding your cycle and prioritizing your skin's needs will leave you feeling refreshed and glowing all month long. Cycle-Proof Your Skin with this Ultimate Guide to Skincare Adjustments During Your Menstrual Cycle
Need an advise? Drop us a message and we will create a tailor made skincare routine for you!