Posted by Skinsider Team on 11th Oct 2023
​Double Up Your Defence: The Power of Combining Vitamin C and Sunscreen for Your Skin
Elevate your skincare routine to a new level of protection and radiance with the formidable duo of Vitamin C and sunscreen. In this blog post, we'll delve into the remarkable advantages of uniting these two skincare superheroes, shielding your skin from environmental damage and the harmful effects of UV rays. Plus, we'll unveil some of the best Korean skincare products that harness the potent synergy of Vitamin C and sun protection to ensure your skin looks and feels its healthiest and most radiant.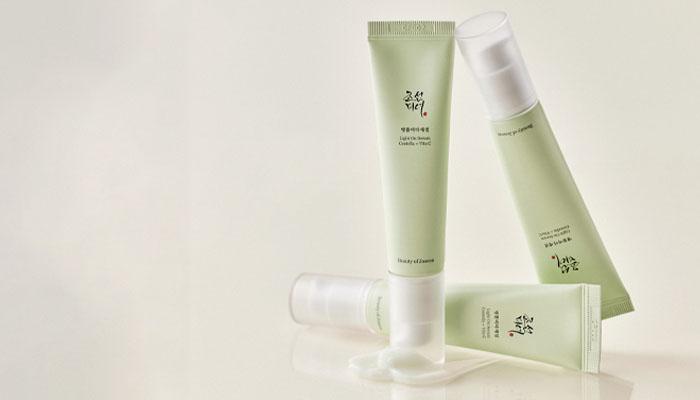 Why Vitamin C and Sunscreen Are the Ultimate Skin-Saving Duo
Vitamin C is a powerhouse ingredient when it comes to skincare. Not only does it brighten and even out skin tone, but it also protects against environmental damage and free radicals. However, to get the most out of your Vitamin C serum or lotion, it's important to combine it with sunscreen.
UV rays from the sun can cause a variety of damage to the skin, including sunburn, premature ageing, and even skin cancer. Sunscreen helps to protect the skin from these harmful effects, but by combining it with Vitamin C, you can give your skin even more protection.
Vitamin C is an antioxidant, which means it works to neutralize free radicals in the skin. Free radicals are molecules that can cause damage to cells and DNA, leading to premature aging and even cancer. By using Vitamin C in conjunction with sunscreen, you're giving your skin an extra layer of protection against these harmful molecules.
The Science Behind Why Vitamin C and Sunscreen Work Together So Well
In addition, Vitamin C can actually help enhance the effectiveness of your sunscreen. Studies have shown that combining Vitamin C with sunscreen can increase its ability to protect the skin against UV rays by up to four times. This means you're getting better protection for your skin and reducing the risk of sun damage. Moreover, recent research results showed that combining vitamin C with a UVA sunscreen produced a photoprotective impact greater than the mere sum of the two individually.
It's important to choose a stable form of Vitamin C, such as L-ascorbic acid, to ensure it remains effective when exposed to light and air. Look for products that contain both Vitamin C and sunscreen, or apply a Vitamin C serum or lotion first, followed by a layer of sunscreen on top.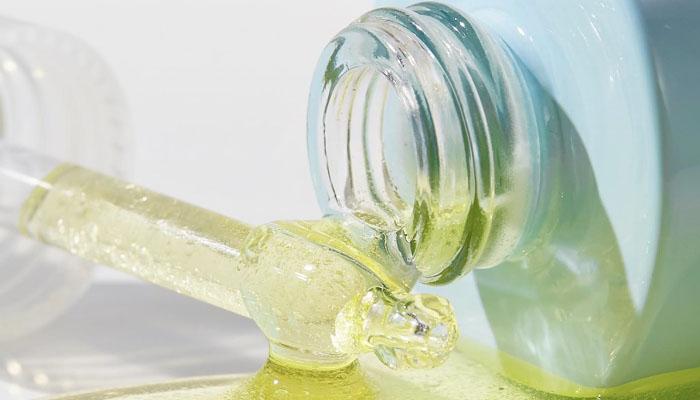 How K-Beauty Can Help You Achieve Glowing, Protected Skin
Korean skincare products are renowned for their innovative formulations, effective ingredients, and gentle yet powerful approach to skincare. This makes K-Beauty an excellent choice when it comes to achieving glowing, protected skin. Many K-Beauty products are formulated with Vitamin C and sunscreen, making it easy to incorporate this powerful combination into your skincare routine. In addition, K-Beauty is all about layering products, which means you can use a Vitamin C serum or lotion, followed by a sunscreen that's specifically designed to work with the other products in your routine. This approach helps to ensure that your skin is getting maximum protection against environmental damage and UV rays, while also giving you the bright, even complexion that Vitamin C is known for. Overall, incorporating K-Beauty products into your skincare routine can be a great way to achieve healthy, radiant skin that's protected against the harmful effects of the sun and other environmental stressors.
Craft Your Customized Protective Duo
Crafting your enhanced sunscreen is straightforward. Begin your morning skincare regimen by applying a vitamin C serum, like Beauty of Joseon Light On Serum: Centella + Vita C or SKIN & LAB Vitamin C Brightening Serum 30ml, across your face and neck. Next, use a broad-spectrum mineral sunscreen with an SPF of at least 30, such as Round Lab Birch Juice Moisturizing Sun Cream SPF50+ PA++++ 50ml (great for normal and dry skin) Dr Ceuracle Hyal Reyouth Moist Sun SPF50+ PA++++ 50ml (perfect for combination to oily skin)
Remember, to sufficiently shield an adult's face and neck, you'll need a sunscreen amount roughly the size of a nickel. Ensure you're generous with the SPF application!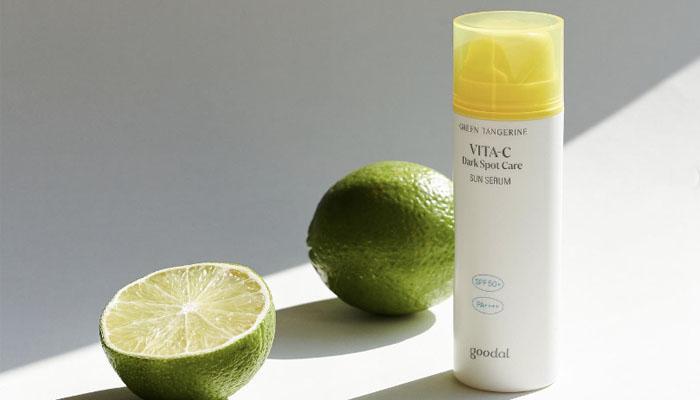 Go for two in one!
Goodal Green Tangerine Vita C Dark Spot Care Sun Serum is your all-in-one solution, combining SPF 50+ PA++++ UV protection with dark spot care in a lightweight formula designed for sensitive skin. This serum features a powerful blend of green tangerine extract, niacinamide, and Vitamin C to fade dark spots and freckles while delivering continuous hydration throughout the day. Feel confident and radiant, knowing your skin is well-protected and nourished. Embrace the dual benefits of sun care and dark spot care for a luminous, flawless complexion that exudes confidence.
Combining Vitamin C with sunscreen is an excellent way to give your skin the best possible protection against environmental damage and free radicals. By incorporating both into your skincare routine, you can enjoy brighter, more even skin tone while reducing the risk of premature aging and skin cancer. As always, be sure to consult with a dermatologist or skincare professional to determine the best products and routine for your individual skin needs.