Posted by Skinsider Team on 11th Nov 2022
Interview: Mizon on collagen and why you should use it
In the final episode of our exclusive series of interviews with K-beauty brand Mizon, we will be taking you on a journey to firmer and plumper skin. We are talking to Chrissy, the head of the Mizon brand team about the Korean collagen skincare products.
Korean collagen skincare
Skinsider Team: Chrissy, it is high time we had a chat about Mizon collagen skincare products. Next to snail mucin skincare products, this is the most popular skincare line within your product range. What's behind this success?
Chrissy: This line is tackling the problem of pre-mature ageing. Collagen is famous for promoting skin elasticity and firmness and it acts against skin ageing.
Marine collagen is a type of high-molecular protein extracted from fish scales which has the most similar molecular structure and properties as the collagen found in human skin. Therefore, it provides moisture and nutrition to the skin the best way possible.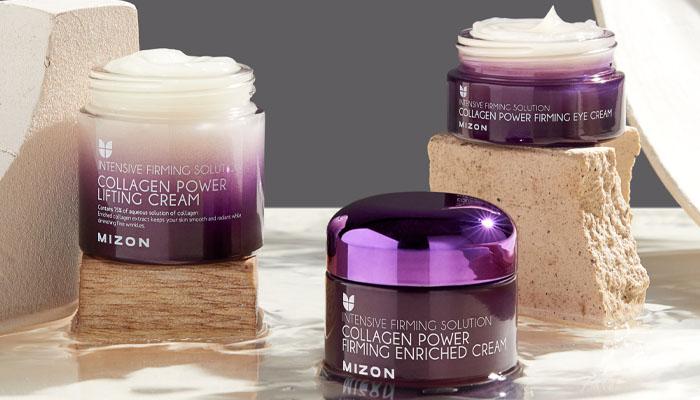 Skinsider Team: In recent years collagen was put under scrutiny. Is collagen effective and actually absorbed by the skin?
Chrissy:Collagen is mainly used for skincare due to its skin elasticity and excellent natural moisturizing properties. Collagen contained in MIZON products has a very small molecular weight which makes it absorb quickly into the skin. The molecules fill gaps between skin cells to prevent hyaluronic acid from escaping and attract moisture to increase the moisturizing of the inner skin dermis.
Benefits of Korean collagen cosmetics
Skinsider Team: What are the skin benefits of collagen? Does collagen really work?
Chrissy:Various studies have confirmed that collagen can give numerous benefits to the skin, such as improving fine lines and wrinkles, and increasing skin moisture and skin elasticity through increased collagen density in the dermis.
Usually, anti-ageing skin care products including collagen recommended. Why? Because collagen which makes up 70 per cent of our skin, decreases as we age. We say that from the 40s, collagen level rapidly goes down. Collagen is easily absorbed by our body so if we steadily take a collagen supplements, it can have an action in the slowing process of ageing.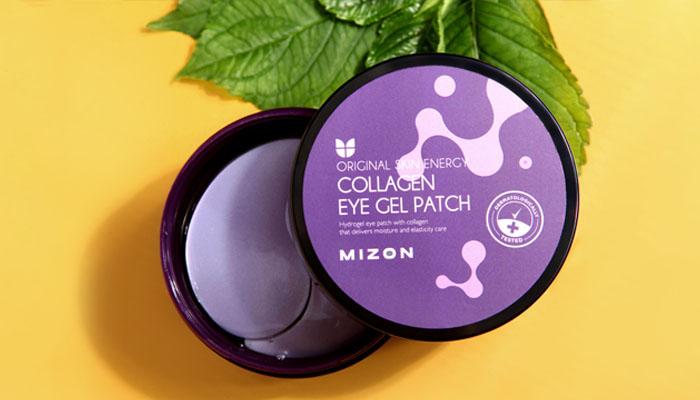 Collagen in anti-ageing skincare products
Skinsider Team: What products would you recommend to people who are looking for anti-ageing skincare?
Chrissy:Reducing signs of ageing requires some effort and commitment. Our MIZON Collagen Power Lifting Cream is a highly concentrated cream that is filled with active ingredients. As the skin barrier is weakened by the external harmful environment, skin elasticity is reduced and wrinkles are increased. Collagen is made up of three amino acids: glycine, proline and hydroxyproline which are known for decreasing the appearance of wrinkles by energizing the skin's surface.
If you are looking for a vegan collagen cream, you should definitely check out Phyto plump collagen line products!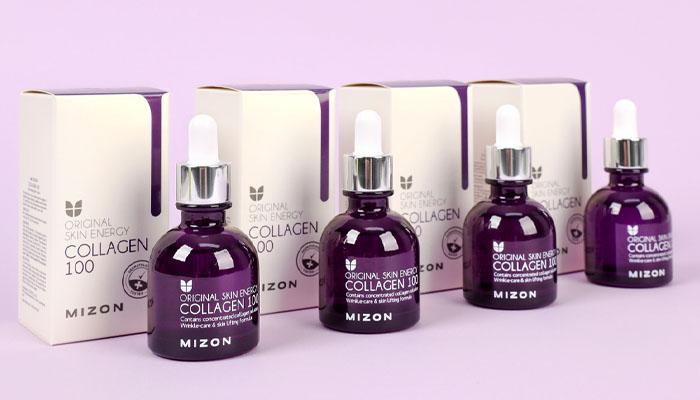 Snail mucin skincare vs collagen skincare products
Skinsider Team: Is there any synergy in using snail mucin and collagen line? When used together, are they more effective in preventing premature ageing? What products would you recommend?
Chrissy:If you use both snail and collagen lines together, it will have double effects on diminishing wrinkles, helping skin's elasticity, protection and whitening effect as your skin will be supplemented with both active ingredients well-known for those concerns. Skin will be more nourished, moisturized and lifted.
Especially if you use Snail Repair Eye Cream along with Collagen Power Lifting Cream, it will greatly improve the skin's texture and fight wrinkles around the eyes.
Skinsider Team: Are these vegan-friendly products?
Chrissy:Phyto Plump Collagen Line is what we would recommend to those who like to integrate only vegan products into their skin regimen. [Skinsider comment: this line will be avaialble in our store soon!]
Skinsider Team: Should we expect new skincare products within the collagen line?
Chrissy:Recently, Phyto Plump Collagen Line was launched and we are very proud to announce our first fully vegan line with eco-friendly packaging. Moreover, this line is planning various new products such as vegan mist, vegan lip balm, and vegan cleanser. Hope you are excited about it because we are!
Skinsiders, head to our blog section to discover about Korean skincare brand Mizon in our series of exclusive interviews.