Posted by Skinsider Team on 28th Jan 2022
​Is Exfoliating Good for Acne?
Acne, sporadic or chronic can impact the way we look and feel. Achieving breakout-free skin may be a lengthy process but there are products and treatments that can help you in achieving this goal. Are you exfoliating your face as part of your skincare routine? If not, you may want to reconsider it because exfoliating is good for acne. We are here to share with you all the rules you should be following to do it safely and effectively. Time to welcome clearer skin.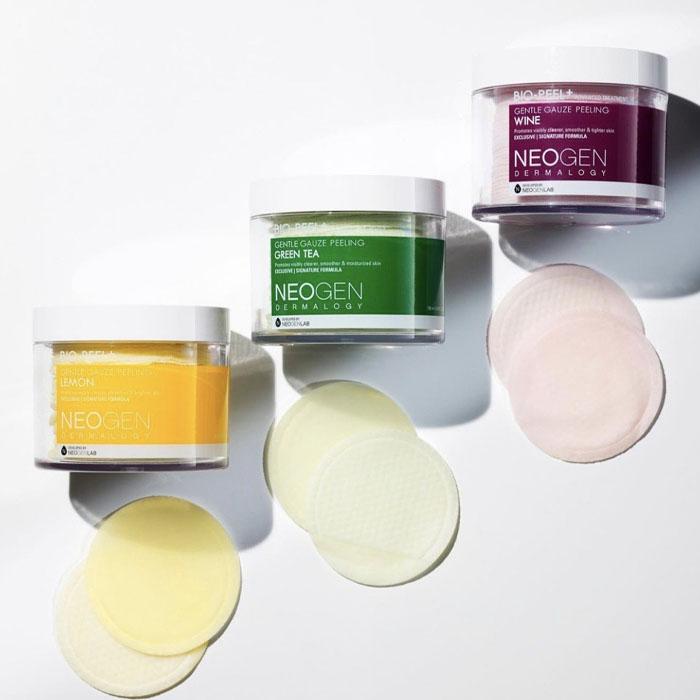 What Exfoliation Does for Your Skin? Is Exfoliating Good?
In a nutshell, skin exfoliation is the process of removing dead skin cells from the surface of your skin. Your skin naturally exfoliates but this process can be slowed down by a number of factors such as your genetics, lifestyle, using skincare products not suitable for your skin. For people with acne, the natural process of skin turnover is not working as effectively due to oily skin type, sebum overproduction or hormonal changes to name a few.
So what is and exfoliator? An exfoliant reduces the amount of dead cell build-up on the skin and unclogs pores.
Do exfoliators help acne? Benefits of exfoliation for acne-prone skin
If you have acne, you may think exfoliation is not for you, but you could not be more wrong.
Exfoliation is essential in helping reduce acne. That is because acne-causing bacteria thrive on dead skin cells. The more dead skin cells are on your skin, the better conditions bacteria have to spread.
Exfoliating skin helps to remove dead skin cells, as well as remove bacteria from the pores.
When pores are clogged, they are enlarged as they expand to fill with impurities. Exfoliators will not only unclog them but also will reduce their visibility and bring smoother and more radiant skin tone.
Whether your acne is mild or more severe, regular exfoliation will smooth and soften the skin and brighten your complexion. It will also help reduce breakouts by keeping the pores clear and removing excessive sebum.
What you need to remember is that acne-prone skin is also extremely sensitive and exfoliating with too strong product or too often can do more harm than good.
How often should I exfoliate my acne-prone skin?
The golden rule of treating acne-prone skin is being gentle and kind. When using a new product, it is always better to start small and work your way up. We recommend exfoliating once a week and then moving up to three times per week. Use a gentle exfoliator. Depending on the skin sensitivity and general condition of your skin, you may need to continue using an exfoliator 1-2 times per week.
We also recommend exfoliating the skin in the evening. The first step is to remove your makeup and cleanse the face with a daily face wash. Cleansing will remove excess oils, and daily impurities from your face before you dig deeper into the pores.
Apply an exfoliant using a cotton pad. Gently wipe your skin avoiding skin around your lips and eyes. If you have acne on your neck, remember that the skin is very fragile on that part on your body and if necessary use an exfoliator only as a spot treatment using cotton buds.
If you are currently using any acne medications, talk with your dermatologist before beginning any exfoliation treatment.
Also, do not only rely on exfoliation when your skin is in its worst moment. You can always reduce the frequency of exfoliation without removing it from your regimen completely.
What products should be used after exfoliating?
Hydrating the skin after exfoliating it is crucial. The process of exfoliating can be incredibly drying to your skin, which could lead to excess sebum being produced to compensate for this. You can use for that a hydrating and calming essence or serum. You may want to address specific skin concerns like acne or wrinkles but make sure that there are no active ingredients (retinol, vitamin C, etc.). In the end, apply a hydrating moisturizer to calm and soothe the skin. We hope we do not need to remind you that using a sunscreen every day is crucial!
What Type of Exfoliation is Best for Acne-Prone Skin?
There are two types of exfoliators: physical or chemical.
Most of us are used to physical exfoliants such as facial scrubs, konjac sponges, and cleansing cloths. But if you are struggling with acne and or have active inflammation, you should avoid these. Why? Physical exfoliants can be damaging to your natural skin barrier as they create micro-tears or as we like to call them micro-injuries on your skin. These can create fantastic conditions for bacteria to spread and create more spots. Also, physical exfoliators can accelerate inflammation by excessive scrubbing and pushing papules and pustules into the deeper layers of your skin.
Instead of using physical exfoliants on your acne-prone skin, opt for chemical exfoliants. They use acids or enzymes to dissolve dead skin cells. As they are in a liquid form, they eliminate the risk of scrubbing the skin.
Which type of chemical exfoliant is best for acne-prone skin?
Chemical exfoliators dissolve dead skin cells. The most common ingredients used in Korean chemical face exfoliants are:
Alpha hydroxy acids (AHA) like glycolic, lactic, and mandelic acid
Beta hydroxy acids (BHA) like salicylic acid
PHA (Polyhydroxy Acids)
LHA (beta-lipohydroxy acid)
Chemical exfoliants are coming usually in a form of toners or liquids that are safer to use.
They can penetrate the deeper layers of skin. Especially BHA and its form salicylic acid are the most oil-soluble and can penetrate pores deeply to absorb excessive sebum.
Chemical exfoliators offer a variety of additional benefits for acne-prone skin types. They have antibacterial and anti-inflammatory properties. They also reduce redness and even increase collagen production that has significant impact on reducing the risk of post-acne scars.
Want to read more about AHA and BHA? Check our in-depth article "All You Need to Know About AHA & BHA Acids"
You may also be interested in: "What can PHA (Polyhydroxy Acid) do for your skin?"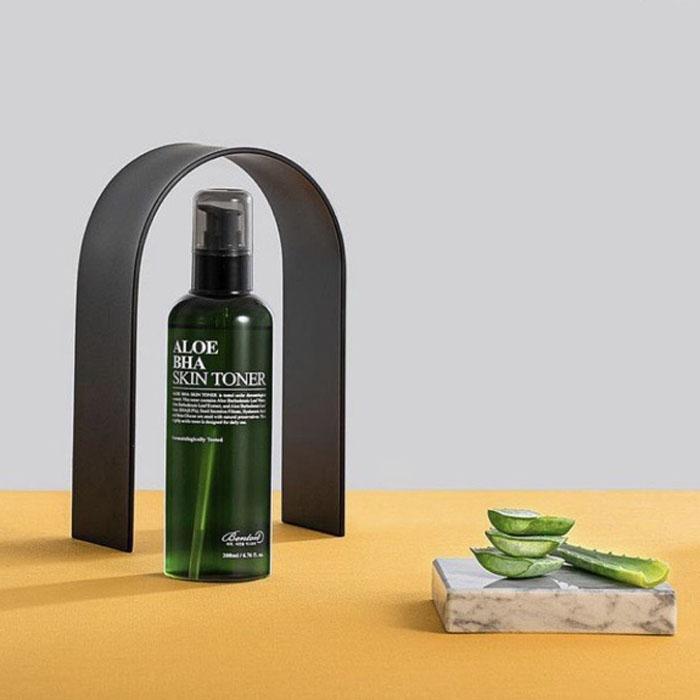 What is the best exfoliator for acne-prone skin?
Korean skin exfoliators with specific chemicals and enzymes work to help dissolve dead skin cells and eliminate bacteria. If you experience frequent breakouts or tend to have oily skin, an exfoliator will help combat redness, inflammation, and further aggravation to the skin.
We have selected for you the gentlest exfoliating formulas, which are perfect for sensitive, acne-prone skin.
Some of our favourite acne-fighting exfoliants include:
Benton Aloe BHA Skin Toner (200ml) help slough away dead skin cells and to brighten and clarify whilst gently eliminating impurities and dead skin cells. Its purifying properties leave skin feeling renewed, refreshed and healthier.Suitable for more frequent use.
Purito AHA BHA Refreshing Solution infused with AHA and BHA ingredients derived from vegan sources. It is a leave-on exfoliator, helping to purify and replenish the complexion. AHA works to diminish dead skin cells and balance the texture while BHA helps to reduce the appearance of impurities on the skin.
Neogen Bio-Peel Gauze Peeling - Green Tea pads offer both physical and chemical exfoliation and work to leave skin glowing and fresh. They are perfect for anyone who has more sensitive skin and is looking for a soothing exfoliation with anti-acne benefits.
By Wishtrend Mandelic Acid 5% Skin Prep Water helps to gently exfoliate skin and remove dead skin cells to improve the skin tone and texture, while also boosting radiance and correcting pigmentation. Highly effective for treating acne, due to its anti-inflammatory, antibacterial properties. Suitable for more frequent use.
With regular exfoliation, your skin will look brighter and feel softer and smoother. It can also help clear out your pores and reduce breakouts. Some exfoliating products can help improve signs of ageing too.
Do exfoliators cause acne?
Korean skin exfoliation works as both a proactive and preventative skin treatment.
If you are using the right products, exfoliating does not cause acne. The goal of exfoliation is to minimize acne and reveal healthier and clearer skin.
Do you use an exfoliator, but it does not work?
One of the reasons why exfoliation does not work is that you are using the wrong exfoliator.
Well-known in Western countries physical exfoliants manually remove dead skin cells by use of an abrasive ingredient. They may be too harsh on your acne-prone and irritated skin. In addition, rough cleansing pads and cloths may not be suitable as well.
They may leave your skin feeling soft and smooth, but they may also cause small tears in the skin and leave behind acne scarring.
What not to do when exfoliating? How will I know if I am over exfoliating skin?
Do not overdo it! Acne breakouts can be stubborn and it will take time to treat and heal them. It may be tempting to scrub at whitehead and blackhead bumps on the skin. We all have been there.
Too much exfoliation can compromise the natural skin barrier. Typical signs of over-exfoliated skin are dry and flaky skin, redness, and sensitivity. These trigger oilier skin as it compensates for the loss in natural oils and clogs pores and spreads acne.
Over exfoliating is a frequent problem. If you want to know more, check our article: "What Happens When You Over-Exfoliate?"
Remember that acne-prone skin is an irritated and inflamed skin, so you want to be as gentle as possible. The harsher the products, the more abrasive the treatment is used and it can irritate the skin even more and increase acne.
Are you ready to shop our amazing Korean face exfoliators? You can find them here.
If you need help choosing the right product, do not hesitate to ask our team for guidance.